Turn Four Cubes into a Truncated Octahedron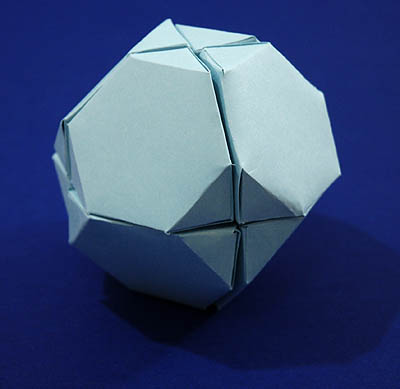 If you cut a cube just right, you will reveal a hexagonal cross-section. If you rearrange the pieces from four such dissections, you can assemble a truncated octahedron.
Materials
Re-stickable (not permanent) glue stick

Card stock

Steps
Build four copies (eight pieces) of the project Hexagonal Cross-section of a Cube.

Apply re-stickable glue stick (if you have some handy) to the surfaces to help the model stick together in a non-permanent way.

Assemble the pieces so that all the vertices that used to be corners of the square meet in the middle of the truncated octahedron.

Notes
While any polygon can be dissected into pieces that can be rearranged into any other polygon with a finite number of cuts, the same is not true with polyhedra. For example, it is impossible to dissect a tetrahedron into a cube using a finite number of cuts.

References